Our laser bird repellents are designed andproduced according the European standards, with CE approved. For years, thelaser devices have been exported to overseas markets, and are highly regarded.
1. MostComprehensive Functions
- 1000mW high output laser with big beam of50mm and small divergence less than 0.5mrad,ensure effective over 1000m;
- Solar powered and big lithium battery, noexternal power supply, can work 24/7 autonomously;
- Multi-functional keyboard, 2x auto cruiseroutes (16x way points per route) and 1x auto scan route can be set up, toensure every point with bird problems will be covered;
- Programmable digital timer, 16x on/offschedules variable for each day of week can be set;
- 2x light modes (CW/Pulse), Pulse mode cansave much power;
- Remote control can turn on/off the laserand switch between CW and Pulse at a long distance off.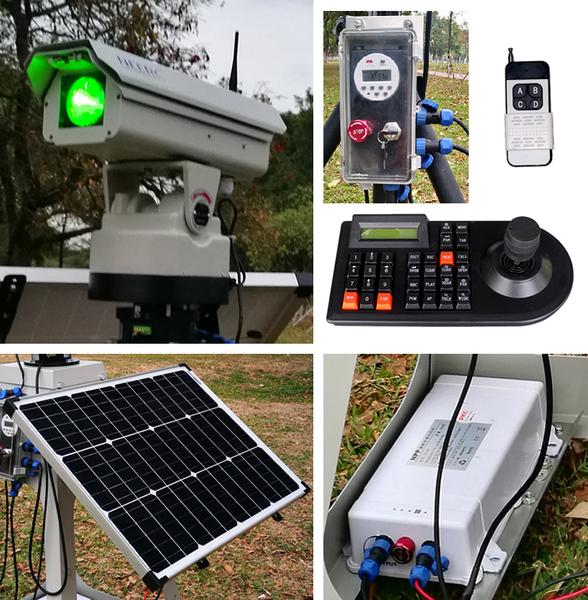 2. 5Switches for 5 Protections, Top Security
- Timing Switch: 16x on/off schedulesvariable for each day of week;
- Emergency stop switch: in emergency case,esp. when the remote control fails, press down the switch to turn off thelaser;
- Lock safety switch: only authorized staffcan turn on the laser;
- LED power switch: press to turn on thelaser, while LED indicates the work state of laser;
- Remote control: can turn on/off the laserremotely
- Laser protective glasses are included toavoid eyes hurt.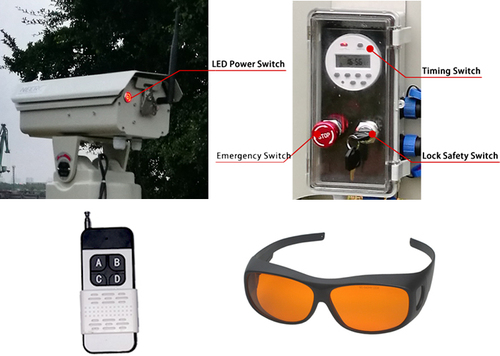 3. ModularDesign, Simple Use
- The system consists of solar panel,lithium battery, timer switch box, pan tilt and laser. - Each part is independent of each otherand connected with watertight connectors, simple for installation andmaintenance;
- Two specially designed stands areavailable, easy assembly, simple and reliable;
- Just plug and play, no training isneeded.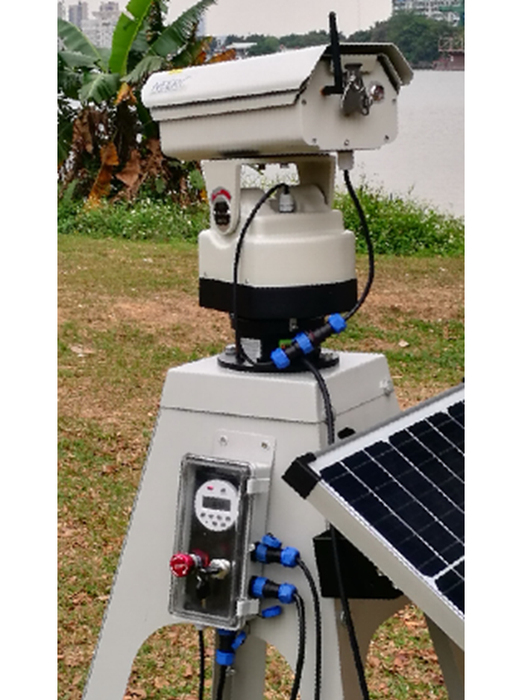 4. VariousModels Available For Different Applications
- Laser power ranges from 500mW to 10W;
- Portable and PTZ mounted;
- Basic remote control model, wirelesskeyboard control, HD camera with APP control, RGB laser, laser and sonic, etc.
- Meet the needs of different occasions,e.g. farmlands, orchards, power plant, power lines, airport, sea ports and soon.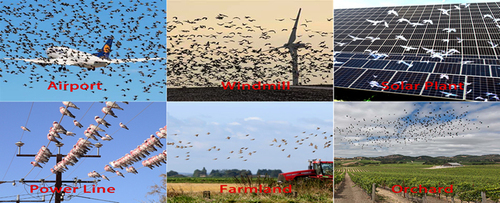 1W Automated Solar Powered Laser Bird Repellent with Wireless Keyboard Control

Model# S1WKR
Features
Green laser, sensitive to birds
Grade II safe laser beam, no harm to birds, human (avoid eye contact) and other animals
50mm laser beam like a big light stick to scare birds efficiently
1W powerful laser effective over 500 meters
Solar powered with lithium battery, 24/7 autonomous without human attention
Programmable digital timer with 6 on/off timings
With keyboard, 2 auto scan routes and 16 positions each route can be preset
Wireless keyboard is effective up to 3km
No wiring, just plug and play, no training needed
CE approved
Technical Specifications
Power supply: 12VDC

Laser output power:1000mW
Wavelength: 532nmgreen laser
Beam diameter (ataperture): 50mm
Work mode: CW orPulse
Effective distance:>500m
Solar panel: 18V60W
12.8V/35AH LiFePO4with 2000 cycles
Wireless keyboard:effective up to 3km, with built-in 12V600mAh LiFePO4 battery
Rotation: 0-355o(rotating), -35 to +35o (tilting)
Work temperature: -10to +45oC
Humidity: 20-90%